Mar 7, 2018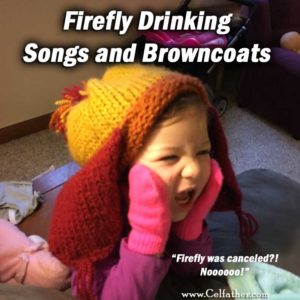 Firefly is one of the most beloved projects from the mind of Joss Whedon, the creator of Buffy the Vampire Slayer. It came out in 2002 and was canceled after only 14 episodes. It developed such an incredible cult following that in 2005, a movie was released based on the TV series. http://celtfather.com
The show inspired me so much that I released a CD with Bedlam Bards called Firefly Drinking Songs. Now I have a new album out for Browncoats called As Long As I'm Flyin. You can buy it at FireflyDrinkingSongs.com.
How did Firefly go from a cancelled TV show to a new album 16 years after it was released? I'll tell you all about it right now.
I was first introduced to Firefly just a few short months before the movie was released. I remember binge watching DVDs. I absolutely loved show. It had a realness to it that appealed to me, despite being a Sci Fi Western.
Firefly became my all-time favorite show ever. It hasn't budged from that standing. I still watch it regularly.
I don't consider myself an ambitious songwriter. I don't write a lot of songs. I write slowly and I am usually "inspired" by something. I never planned to start a genre of Firefly drinking songs. It just sort of happened.
In 2007, I was on the first Brobdingnagian Bards tour of Ireland. I got an email from fan telling me there is a songwriting contest called Sing A Song for Saffron.
Saffron was a nefarious woman who was featured twice in the series. She first appears in "Our Mrs Reynolds" where she sneakily marries the captain of the Firefly ship, Serenity. She then attempts to seduce him. When that fails, her true purpose is revealed, leading the crew to their deaths to steal their ship.
Saffron appears again later in the episode "Trash." She works with the crew to steal a famous laser gun. She attempts to double cross the crew only to find they are ready for her.
Beautiful and seductive, Saffron is a favorite side character.
So there I was in Ireland when I get an email from a fan that read, "you should write a song for this contest."
I was immediately struck with a parody idea using the traditional Irish melody "May Morning Dew".
I submitted my song "She Said Her Name Was Saffron" to the contest a week after returning from Ireland. The song won the Best Parody award.
A few months later, I sang that song for The Signal Firefly Podcast for a live event at DragonCon.
I had no further plans to write more Firefly songs. But a year later, I was driving Back to DragonCon when I was struck with an idea.
I had just finished watching the episode "Jaynestown." The crew lands on Higgins Moon, a town that sells mud. The crew is hired to transport contraband off planet. One of the crew, Jayne Cobb, warns about how he had trouble with the local magistrate a few years back. We soon learn that Jayne has become a folk hero of the town with a statue and his own protest song "Hero of Canton".
That song is a favorite among Browncoats. Everyone of us longs to have a mug of mudders milk and sing along. But as I was driving back to DragonCon, I wondered what other songs might've been heard in that little pub in Canton. So I wrote one.
The song was called "Monahan's Mudder's Milk". I wrote it as a sort of Woody Guthrie-style protest against the challenges faced by the mudders of Higgins' Moon.
This song was super important to me. First, because it sort of solidified what would eventually become my most-popular musical niche, Sci Fi Drinking Songs. But it was also the launching point for Firefly Drinking Songs and my newest album, As Long As I'm Flyin'.
It was around this time that the idea of recording a CD of Firefly Drinking Songs began. I set up concerts at Gen Con and Dragon Con dedicated to this theme. Each show was packed. The conventions were turning people away at the door.
The atmosphere at these shows was amazing. I really wanted to capture that feel. So I decided on recording a live CD. I wanted it to feel like you were in that little pub in Canton.
My biggest challenge was I didn't have enough songs to create an album. So I turned to someone who did.
The Bedlam Bards were the first to release a full CD of Firefly music. It was called On The Drift: Music Inspired by Firefly and Serenity. The album captured everything that people love about Firefly and the fandom. It's fantastic.
Cedric is the primary songwriter for the group. When I called him up to ask if he'd like to make an album with me, he was psyched.
We spent next few months performing Firefly Drinking Songs at various venues and conventions trying to capture an amazing live recording. It finally happened at church in Round Rock, Texas that my friend Jan Czenkusch booked for us. It had the energy, the sound. It was fantastic.
We released the CD. It quickly became one of my most-popular albums.
Once again, I had no plans for a follow up. I was trying to get out of doing themed CDs. Most of my 20+ albums are themed. Some are Irish. Some are about cats. Some are sci fi. While themed CDs are easier to sell, they are much more difficult and costly to produce.
So when I wrote "Bring Me Home, Boys", a song based on the episode "The Message" where a body is mailed to the crew with a message to bring his body home to his family, I didn't put on a Firefly CD. Nor did I put the song "Browncoats Keep Flyin'" one one. That's a song I co-wrote with Rie Sheridan Rose. Though I did put it on Sci Fi Drinking Songs. Again, I had no real plans to record another Firefly album, despite its success.
But one year at Gen Con, I was singing "Close Your Eyes". This is a song by Daniel Glasser. Many call it the "Demon Lullaby". I have a whole podcast episode about that song. Follow the link in the shownotes.
In the middle of the song, I changed the lyrics to the "reavers beneath your bed are gonna eat your face". The crowd erupted in laughter and for the next few years Browncoats asked when I would put that song on a CD.
In 2016, I set a milestone on Patreon. If I reached that goal, I would record a 4-song EP of Firefly songs, exclusively for my Patrons. I quickly hit that goal. But as I started recording the EP, more songs came out. So I asked Rie Sheridan Rose, a long-time songwriting collaborator to send me some more lyrics. She did.
Next thing I knew, I had a full album of Browncoat drinking songs. I launched a Kickstarter and the rest is history.
Now one of the things I sort of glossed over earlier is the Firefly Drinking Songs show. This show took on a life of its own. When I started, I was just singing songs about Firefly. But I wanted something bigger. I wanted something more inclusive.
You see, I have long been a part of the reenacting shows. Mostly notably are Renaissance festivals. At faires, you're encouraged to not just play music, they want you to be a part of the atmosphere, to recreate the Renaissance.
Early on, I absolutely LOVED faires for that very reason. I could pretend I was in the Renaissance.
But the simple fact is I'm not an actor. So keeping that going ALL DAY LONG was a bit exhausting and tedious. So I took on a new character, that is basically me.
I think that's why I love the Firefly Drinking Songs show so much.
I don't usually write music ABOUT things I love, like Firefly. I prefer to write as if I'm a PART of the world. Firefly is the epitome of this. The music I wrote was as if I was living in the Firefly 'Verse. The show was created as if I was a touring musician singing songs for Browncoats.
The show is about an hour long. With any luck, the one at Gen Con this year will be about an hour and a half. But for that period of time, it's easy to get and stay in character. So that's why I do.
My family is all from East Texas. So I put on my Texas accent and step into a world where people are on the fringe of civilized society. They're looking for an escape. They want to hear music that celebrates the independents who lost the Unification War. They want to escape the hard life of working in the mud pits.
For an hour, they are a part of that. We sing songs about the "Hero of Canton," "Blue Sun," reavers and the Browncoats. It's absolutely incredible.
It's been 16 years since Firefly was started and canceled. Yet new Browncoats are made every day as they discover this incredible show.
One of my dreams is to take the Firefly Drinking Songs show on the road. I want to unite Browncoats once again for a Shindig among Shindigs and an inspired passion to keep building the 'Verse. Because to quote Mal, "we have done the impossible, and that makes us mighty."
If you're interested in my new album, As Long As I'm Flyin' or the Firefly Drinking Songs show, please visit FireflyDrinkingSongs.com. You can buy the album, listen on Spotify, find cool merch, and learn more about the show. I'd love to hear about your favorite episode or character. You can post that in the shownotes.
I should point out that the physical CD will only be available in March. So if you like CDs, then you should order it as soon as possible.
---
Thank you for listening. Celtfather Music & Travel was produced by Marc Gunn. If you enjoyed this episode, please join the Gunn Runners Club on Patreon. For as little as a buck a month, you will help release more music, podcasts, videos and more.
Would you like 21 songs for Free? Plus get regular updates of what's new. Subscribe to the podcast and newsletter at www.pubsong.net.